The Green Traffic Light Society
Home of Green Lights Football Club
Introduction
Hello, and welcome to the first ever Green Traffic Light Society (TGTLS) home page. If you follow Enfield Football Club then you will probably have read some information about us in our bi-monthly TGTLS NEWS fanzine or even heard us shouting on the terraces for our team.
Formation
The Formation of The Green Traffic Light Society came about in early 1993. A meaningless cup tie against Hendon had Enfield supporters looking for alternative methods of entertainment, other than rushing for the bar at half-time. I remember the moment well, for it was as another hefty clearance from a Hendon defender reached row Z of the main stand that someone said 'why are we here?' then 'when is that green light in the distance ever going to change?'
The light became a talking point throughout the rest of the match, and at successive home games an idea was hatched to form Green Lights Football Club and a club fanzine as well. Since those heady days, TGTLS' plus the fanzine (but not so much the football club!) have gone from strength to strength. Possibly THE noise coming from the terraces at Enfield fixtures, we can be found staggering out from the social club five minutes before the start of the match to inform those who will listen that 'we're the Kings of Non-League football.
The Green Traffic Light Society
In Appreciation of Kelvin Morton
The man in the middle. Responsible, trustworthy, and beyond reproach. What a load of old cobblers. It is my belief that they go through some kind of metamorphosis as they walk from the tunnel dressed in their black kit with their regulation whistle. In the Ryman League, we have more than our fair share of brainless, hopeless and hapless officials... many of whom are progressing through the leagues to reach the height of their profession - buggering up the Premiership - many are also on the way down the slippery slope as well, but most just prefer to settle at this level and take their petty differences out on the world of non-league football. Who is the worst? Well, it's all subjective of course, but I believe that of the current crop, both D'urso and Durkin are well on the way to being GRADE 1 spoilers. But the very worst of all referees to have blown a whistle in spite at Southbury Road must be Kelvin Morton. Who else would have sent four players off at an Enfield-Hendon Trophy tie? Who can forgive Morton for THAT outrageous performance when he celebrated Woking's third goal at Wycombe? So it was with some delight that I was handed the photo to the right and asked to print it in the fanzine. Well, I've gone one better. What do you think?- On the subject of referees, try reading OFF! OFF! OFF! by Sidney Putapon and I guarantee you will change your views of those men in black... you will hate them more!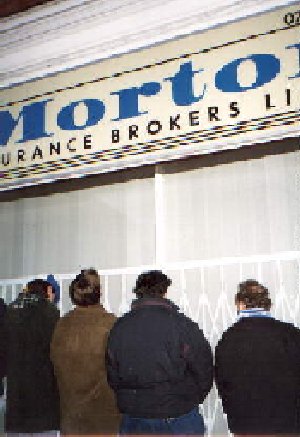 Some Enfield supporters celebrate Kelvin Morton's retirement from football. And good riddance!
Enfield Football Club
Another reason for the formation of The Green Traffic Light Society is to get pockets of supporters together and shouting for Enfield, rather than have groups scattered around the ground. It used to be so darn annoying to be the only spectator shouting, whilst those around are watching in silence or (worse still) criticizing the team.
In the Isthmian League after all these years, our rivals from Barnet may sneer about our current league status, but let's be honest - Barnet (and our good friends from Woking for that matter) are hardly streaking away from us at the moment. We aim to meet these sides soon in competitive football.