Now here is an exclusive! An article by none other than John Vane. You might know him as Fruitbat. The original text to this article contained no less than nineteen profanities, and for the sake of our readers, most of the excess language has been cut or toned down. Whatever - TGTLS News presents:
Who's the heckler in the black?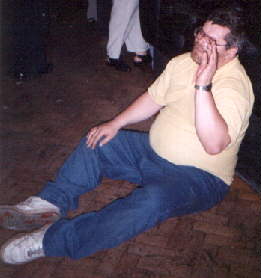 Now, I realise that Referees and the assistants have a thankless and difficult job, but why the hell do we have such a bunch of anoraks doing it ? They are the most useless, egotistical, arse-licking, thick as two planks, incompetent, cheating (some of 'em), puerile, futile, hopeless, vain (no pun intended), ineffectual, purposeless, pointless, aimless, worthless, unnecessary, apathetic and finally basically ridiculous collection of merchant bankers that I have ever had the misfortune to meet.
I have a theory that the World Council of the planet ZOG had a crisis meeting as to what to do with all the after-birth left over at their Jabberdoodoo (about 60 foot high and built like a brick out-house) enclosure after it had just had 669 babies. It was decided to launch a rocket full of the stuff to the 'HEART' of the universe, and dump it. Unfortunately for us sad gits, the pilot was dyslexic, and thought they said dump it on the 'EARTH', so consequently he dumped all over us. In our atmosphere the after-birth mutated into thousands of little Hitlers which we have come to know and despise as Refs and their Assistants. There was a still a large bit left so I reckon they made that into a Fatty Batty. SO now you know.
Now, just like in Superman(ish), there was born in the wilds of Yorkshire a Messiah who would become known as 'The Fruitbat'. His only task in life would be to harangue this heap of crapheap mutants until his last breath. I have given most of my life to this pursuit and also of course to drinking so much lager that I grow as big as that flaming Jabberdoodoo, go off to ZOG, shag it rigid and pull out just as she's about to jump. That'll teach the bitch! On my crusade, I have noted that some of these mutants from ZOG are even worse than their brothers, so I have compiled a list of these terrors as a warning to others. I will give these merchant bankers an irritability factor out of 10 which is made of how crap they are and how much they react to my abuse. Read on
Beadle Just like his namesake, I do not find him at all amusing. He is about the worst lino I have ever met and have managed to get a reaction out of him on nearly every occasion. His only saving grace is that I don't think he's a cheat, but just flamin' incompetent. (11/10)
Mr Bean I can't remember this git's name, but he's a dead ringer for Mr Bean, and does about as good a job as you would imagine old Rowan Atkinson would do!! (9/10)
Orsini We met this one at Dagenham last season in that brilliant 2-0 win. On refection I think he was worse than Beadle, which was confirmed when we had him again at an away match, possibly Bishops Stortford, I was a tad inebriated at that fixture, but vaguely remember him missing a blatant hand ball by their centre half. (9/10)
Halsey Just lately, we seem to have this one week after week. He is absolutely dire, has got no idea and, God help him, is nearly as crap as you-know-who. (8/10)
Neil Lewis Now this geezer ain't the worst of 'em, and he also gives as good as he gets. We had him for a home game last year, and as soon as I gave him a gentle opening salvo, he turned round and told me to '****ing belt up'. I was gobsmacked, and to my shame did not even reply. I got him for the rest of that game but a grudging respect for this lad has grown. (4/10)
Kinnock I hate this bloke, he's always ruddy smiling! He's the git who first made me ask him what life is like on the planet ZOG, because he obviously was not on this soddin' planet ! (8/10)
Ward I've not come across this geezer often, but he stopped the Carshalton game at half-time last season, purely cos the losers were whinging, once they had gone 1-0 down. The pitch was no worse than at the start, so he is just a [censored]. (6/10)
Bennett Mr incompetent, I last saw this one at Chertsey (Staines), when I was busy baiting Anderson (remember that Sutton o.g?). In fact I got on so well with Anderson, he said he'd see me in the bar after the game. What a nice chap - he even left the pitch early after his stunning save, and resultant sending off, just to get the lager's in ! Anyway, I digress, don't you just hate Bennett's Rent-a-Tan ! (6/10)
Eddie Green I had high hopes of this bloke, he actually had a couple of decent games - i.e. (Dulwich a 1-1) but this season he has been a bloody nightmare. Sheer incompetence, as opposed to cheating, but what else do we really expect! I would like to own up to not being at his first game (Hendon h 2-2), but I have had several reports to back up this appraisal.(10/10) P.S. He's another who's always smiling.
Graham Monk As with Eddie, this git had some decent(ish) games, notably running the line against Cardiff. Perhaps a hint there! Things came to a head with this chap when we played at St Albans last year. Somehow, we won this game 2-1, but he must have booked over half our side, even Saint, and I nearly had a coronary shouting at him. Completely plain incompetent, but not a cheat. He was almost as bad to the other side, but not quite!!! (14/10)
Kelvin Morton I've got nothing to say about this one!!! Except, that is, do you remember his celebratory jig when Woking scored their third goal in THAT game against Woking?!! It's lucky for him he appears to have been retired, cos I hated him so much I may have done time for him !! (40/10)
Andy D'urso Now this one is the bloody Anti-Christ. Utterly incompetent, hates Enfield, he bloody loves seeing me when he walks on the pitch. The look on his face when Harrow played Hayes in the latter's championship year, and did I give him a gobful. He was distraught, but recovered to give his usual absolutely worthless performance, and incredibly forgot himself, giving Harrow a last minute penalty! OOPS, sore point, last gasp penalties at Harrow! Anyhow, he is a 100% bar steward and this is only bettered by the level of his sheer bloody incompetence!!! It's a shame that ZOG dyslexic pilot ain't 'ere, seeing as he might interpret Andrew D' urso as 'Under a Sword' and kill the**** !!! I absolutely HATE this ***** !!!!!!! (100/10) P.S. Mind you, he certainly livens the game up for me!!
Joe Ross This bloke's great, even if he is always smiling. Totally unfazed by what's going on around him, but unusually for an official, appears to actually have a grip on reality. I suspect that he is the only one who is not a mutant, because I've noticed he don't look like the rest of 'em. You've gorrit, He's bald as Kojak! Did you see him staring out Souness the other night against Reading? Brilliant !! (0/10